PICK WHICH VERSION YOU NEED… DESKTOP OR ONLINE
JOIN QUARTERLY AND YEAR END FORMS COURSE
STEP BY STEP TRAINING WITH CANDUS
JOIN QUARTERLY AND YEAR END FORMS COURSE
STEP BY STEP TRAINING WITH CANDUS
Hear what members of the
Quarterly & Year End Forms Course have to say…
This course was very helpful.  I was able to process the qtrly tax forms (my first time with QB)  with confidence and that was great. 
Your videos have been very helpful especially on how to file the quarterly reports since I started doing it on my own. All of your videos have been super helpful.
Just purchased your Quarterly & Year End Tax forms videos. Love your videos on 941, 940, etc. 
This met my expectation and more! I feel complete confidence in doing them now.
The videos are easy to understand!! The company I work for needs to file several quarters of 941 forms. 
I will recommend this course to everyone who needs it.
Thank you for helping me!!
Look forward to more YouTubes and courses.   
Betty Woodard
I appreciate the course very much.  Thank you for taking the time to develop this much needed information.
Kevin Watson
Candus was extremely helpful, she went out of her way to make sure I had what I needed in her course to be able to complete my tax returns using QuickBooks.
Karin Gillis
What's Included In Quarterly and Year End Forms Course…
How to Pay Payroll Taxes in QuickBooks and Online-EFTPS, EDD
Learn which reports I recommend pulling to verify how much you owe.
I will walk you through IRS/EFTPS website and EDD's website.
How to Pay Payroll Taxes with E-Pay in QuickBooks
Save yourself time by paying your payroll taxes directly in QuickBooks.
Quarterly Reports 941, DE9, DE9C
Learn which reports I recommend pulling to verify your report.
If you're a California Employers you will also have your state reports.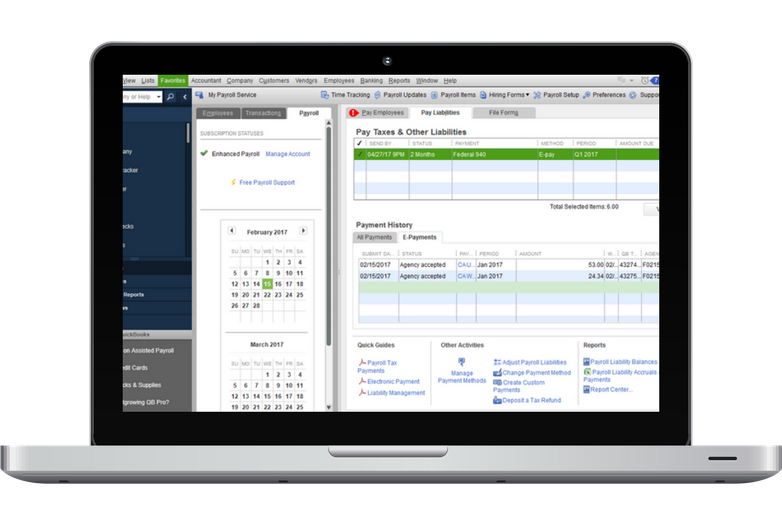 E-File EDD Quarterlys DE9, DE9C
The new law requirement for e-filing for the state of California.
Learn which reports I recommend pulling to verify your numbers for your returns.
Step by Step to e-file.
Annual 940/FUTA Form
Learn which payroll reports I recommend pulling to verify against.
How to figure out how much you owe, and how to write a check for the credit reduction.
W2's & W3 (Employees)
How to verify your employee's earnings.
Review the W2's and W3.
How to Print W2's and a W3.
1099's Misc & 1096 (Independent Contractors, Rent…)
How to setup vendors to received a 1099.
Map which expense accounts show up in which box.
Review who will receive a 1099.
How to Print the 1099's and the 1096.
JOIN QUARTERLY AND YEAR END FORMS COURSE
STEP BY STEP TRAINING WITH CANDUS
JOIN QUARTERLY AND YEAR END FORMS COURSE
STEP BY STEP TRAINING WITH CANDUS
I understand I can TEST this system out! If I receive online access to the Members Area and I'm not 100% satisfied, then I can have a refund as long as I request the refund within 30 days of my order.
I understand I must notify Candus within 30 days if I want a refund because there are no refunds after 30 days.
If I choose to stop my payments or ask for a refund I loose access to membership areas.
Year end was new to me.
Candus walks you through processes like she was sitting right next to you.  She has a way that makes you feel so comfortable asking her questions. Her expertise in QuickBooks is awesome; she demonstrates navigation to all areas in QuickBooks and teaching details as she goes. It is a pleasure to work and learn from her.  Highly recommend working with her.
For the added forms I am from Michigan and we don't have special taxes, knowing that you can change items is QuickBooks is helpful just not applicable to me.
Bonnie Gustavison
I want to thank you for your very informative videos. I've learned a lot.
And I really really appreciate you !!!
Frequently Asked Questions
How will I access the videos?
Once you complete your payment. You will create a username and password (make sure you write it down). 🙂
This username and password will give you access to my membership site. All the videos are waiting for you there.
Can I watch these videos more than once?
Yes, I created this course for you to be able to reference back over the next years. 
JOIN QUARTERLY AND YEAR END FORMS COURSE
STEP BY STEP TRAINING WITH CANDUS
JOIN QUARTERLY AND YEAR END FORMS COURSE
STEP BY STEP TRAINING WITH CANDUS