I'm going to guide you along the journey to mastering your skills and realizing you have the ability to learn QuickBooks. I know you can do it.
After 13+ years of working with hundreds of unique businesses from Medical businesses to Chiropractors, Dentists, Auto Body, Construction, Consultants, Real Estate Investors, Restaurants and more,

I've learned how to customize QuickBooks for any type of business.
I've also used QuickBooks in my own businesses and know the value of reports and truly understanding they will change your bottom line!
My specialty is making this often complicated subject easy to understand for Entrepreneurs just like you.
Wouldn't it be nice to talk to a live person to get your Questions answered while you set up and learn QuickBooks? You are in the right place! I work with Entrepreneurs one on one to customize QuickBooks to your needs.
I had many problems before working with Candus because I didn't know anything about QuickBooks. 
The multiple problems affected my productivity and accuracy in bookkeeping.This was costing me time & money. 
I contacted Candus when I began working many late hours keeping up with bookkeeping. I immediately saved time and was able to do my billing easier. 
Now I am able to train new office employees on my own. 
Our business has become more profitable because QuickBooks has made it so much simpler to keep track of expenses and income.
Candus came to my rescue when I first started to use QuickBooks in 2007. I needed QuickBooks for my business and did not know where to start. She came to my office and help me set up QuickBooks for my business. 
Candus was patient, informative and very professional!  She called to check up on me to make sure all was going well, and it was! 
I use QuickBooks every day and it has made life easier. 
I highly recommend Candus to help anyone with their QuickBooks. She definitely made it easier for me!
Candus is a great QuickBooks Consultant! She is proficient, prompt and knowledgeable.
She set up our business foundation using QuickBooks and continues to serve as our "go to girl" for any QuickBooks questions, updates that I am unfamiliar with and general QuickBooks questions I may have.
She is thorough and thoughtful with her approach and applications. I appreciate her enthusiasm.
Working with her as part of our business has brought more confidence for running my own payroll within our company. It has been a joy to work with her!
Of course, when in great need, it's wise to ask a knowledgeable friend for a recommendation as to who to call for help. 
That friend recommended Candus and I made the call.  
I am fully able to pay bills, complete bank reconciliations and keep current with all the changes that needed to be updated.  
THAT'S SUCCESS!  And that's what Candus did for us!
We implemented the training and immediately experienced results. 
Our longer term results is that We want more! 
We expect to further maximize our use of the program which will result in less time loss and more productivity.
I couldn't find anyone to fix the mistakes and didn't know how to fix them myself.
I felt you saw the whole picture immediately and understood what needed fixed. 
Very very relieved! And I've learned to look at all reports and payroll liabilities to make sure they balance. 
I feel like I you supplied me with years of training. 
Are you ready to schedule your appointment? 
Accomplish your QuickBooks goals!  Whether you have a quick question or want to learn something new, I can help.
Let's work together. 
Strategy Session
Have a question?

Ex: How do I fix my credit cards? or Why are my undeposited funds not balancing?

What question do you have? (Best for one topic)

Let's dive in – address and fix your specific issue or topic.

Screen sharing (Zoom) + Over the phone.

Package includes:  1 question or topic.

up to 45 minutes

Investment: $365
Advanced Strategy Session
Learning a new area of QuickBooks (ex: credit cards, reconciling, payroll)
An advanced strategy session is designed for those questions or issues that involve a bit more depth.
Screen sharing (Zoom) + Over the phone.

Package includes: Any QuickBooks topics you need guidance on

up to 90 minutes

Investment: $575
What Our Clients Are Saying
"QuickBooks was very overwhelming for me, as I had never used the program before. 
My accountant instructed me that I needed it. 
I tried several attempts at it on my own and was super frustrated. 
It was very scary to think that this information was for tax purposes on my business and needed to be accurate.
After working with Candus I don't break out in nervous sweats when input my monthly information."
"I slept better last night knowing I was back on the right track with quickbooks.  :-]
It was really good for me to work with you.  Thank you so much."
"Candus is a QuickBooks genius, her knowledge and wisdom of this accounting software is phenomenal!  Her name in my phone is labeled "QuickBooks Angel" just to give you an idea.
After going through YouTube QB Video Tutorials, one after the other, and often times finding 20 different ways to input one type of entry, it was becoming extremely frustrating.  I was unable to find someone who could properly and thoroughly explain how to input and reconcile credit card transactions.  Finally, at my wits end, I discovered through Candus' video tutorials, a knowledgeable, credible, and easy to follow and comprehend step-by-step process.
In addition to the tutorials, I did need one-to-one additional help and guidance and was incredibly pleased with Candus' 90 minute Private Consultation.  Candus was so helpful and patient in walking me through my questions through our phone conversations and screen shares.  After her direction and explanation of how to resolve certain QB questions, I feel this huge sense of relief, knowing that my clients' QB files are being properly input and completed in the most efficient and easy to read manner.
I would highly recommend Candus' QuickBooks Services to anyone!"
"I was looking for help with an error I made on QuickBooks and I came across Candus' website.
I was hesitant to call her because I am a pretty skeptical consumer but I was desperate to find a fix to my mistake so I sent her an email.
She responded quickly and provided me the help I required. She even called me at my home, twice, when I had follow up questions or required clarification (I live in Canada by the way).  I was very surprised with her responsiveness and her genuine care and concern. 
Candus' experience, knowledge and help was right on! She really helped me out of a tough spot. 
Thank you Candus! I didn't think people like you were still around. I appreciate your genuine concern and your help!"
"I couldn't find anyone to fix the mistakes and didn't know how to fix them myself.
Candus showed me things I didn't know and I have been using QuickBooks for 13 years.  
She saw the whole picture immediately and understood what needed to be fixed. 
I feel like she supplied me with years of training in 90 minutes.
I'm Very very relieved! And I've learned to look at all reports and payroll liabilities to make sure they balance." 
Barbara Weatheral
Inspiration & Empowerment: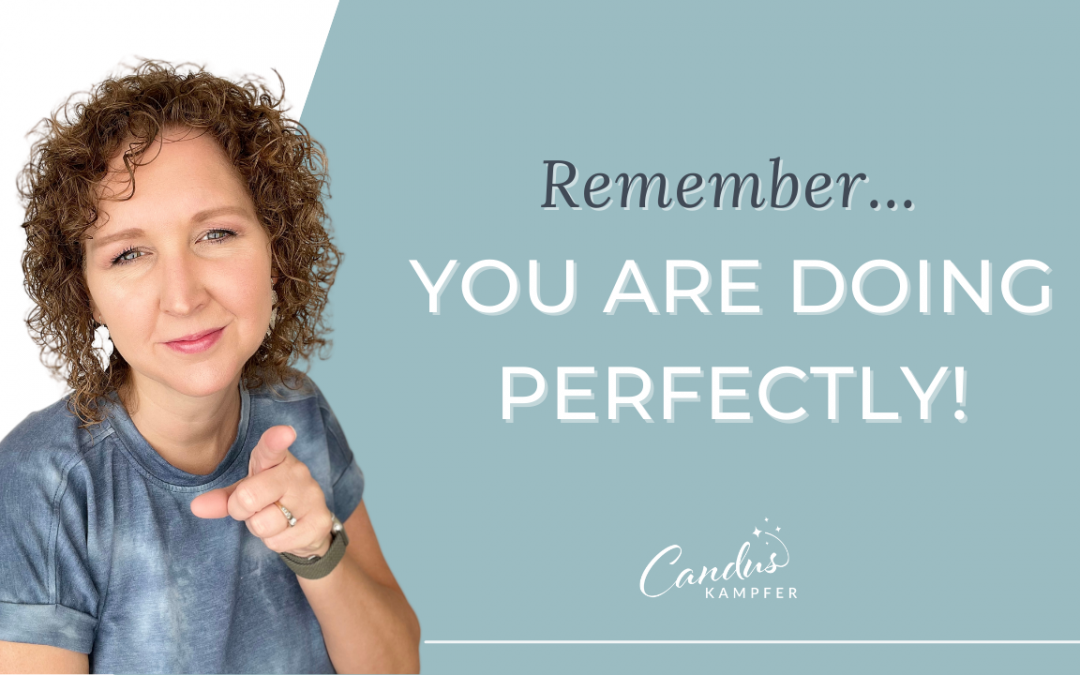 If recently you find that life is feeling a little heavier than normal... 🥴 Are you growing your business, taking care of your family, learning new skills, and you're not sure if you can do it all? Remember, you're doing perfectly. 😘 There are seasons in life, and...